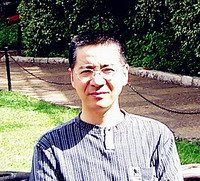 Professor of Biochemistry
School of Life Science and Technology
Phone: 86-25-83271300
Email: ybzhang@cpu.edu.cn
Research Summary
Dr. Zhang's research focus on dissecting the signaling events involved in metabolic disorders. Recently, we are very interested in the fundamental mechanisms of nonalcoholic fatty liver disease, and with the ultimate goal of identifying novel targets for the treatment of NAFLD and other liver diseases, such as liver fibrosis and hepatocellular carcinoma(HCC).Efforts are also being devoted to elucidation of biochemical and molecular mechanisms of Traditional Chinese Medicine on metabolic syndromes.
Education
1998Ph.D., Biochemical Pharmacy, China Pharmaceutical University
1989 M.S., Microbial Pharmacy,Peking Medical College
1982B.S.,Chemistry,Jiangnan University
Academic Experience
2007-Professor of Biochemistry, China Pharmaceutical University, China
2003--2006Post-doctoral fellow, Pennington Biomedical Research Center, Louisiana State University, USA
2002-2003 Post-doctoral fellow, Department of Biology, City University of New York, New York,USA
1989-2001Associate Professor of Biochemistry , China Pharmaceutical University, China
1997-1998Visiting Scholar in Biochemical Pharmacology,Dept. of Molecular Biology,Janssen Research Foundation, Beerse, Belgium
1982-1986Assistant Professor of Biochemistry, Nantong University, China
Awards and Honors
2010 ,"Excellent study abroad returnee"Grant, Nanjing City Government, China
2010, Teaching Award for Bilingual teaching of Biochemistry and Molecular Biology ,China Pharmaceutical University
2009."Talent Project (Six Talent Peaks)" grant, Jiangsu Province Government, China
2000,Distinguished teacher award, China Pharmaceutical University, Nanjing ,China
1981, Outstanding student award, Jiangnan University, Wuxi, China
Publications
Books
[1] Zhang,Yubin. Biochemistry, People's Medical Publishing House,Beijing,2015.1.
[2]Zhang,Yubin. Chiral Synthsis With Biocatalyst,Chemical Industry Press, Beijing,2001.8.
Papers and Articles
[1]Qiang X., Zhang Y.B.*,Demethyleneberberine attenuates non-alcoholic fatty liver disease with activation of AMPK and inhibition of oxidative stress,Biochemical and Biophysical Research Communications ,2016,472 : 603-609
2]Zhang P, Zhang Y.B*.Demethyleneberberine, a Natural Mitochondria-Targeted Antioxidant, InhibitsMitochondrial Dysfunction, Oxidative Stress, and Steatosis in Alcoholic Liver Disease Mouse Model,J Pharmacol Exp Ther. 2015,352(1):139-47
[3] Hongyin Du, YubinZhang*,Effects of Electroacupuncture on PGC-1 Expression in Brown Adipose Tissue, Evidence-Based Complementary and Alternative Medicine, 2013,2013:625104-11
[4]Xingyuan Wen, Yubin Zhang*,Effect of Exercise Intensity on Isoform-Specific Expressions of NT-PGC-1α mRNA in Mouse Skeletal Muscle,BioMed Research International,2014,2014:402175
[5]Pengcheng Zhang, Yubin Zhang*,Berberine protects liver from ethanol-induced oxidative stress and steatosis in mice, Food and Chemical Toxicology ,2014,74 :225–232
[6]Yubin Zhang, Thomas W. Gettys,etc. Alternative mRNA splicing produces a novel biologically active short isoform of PGC-1α.The Journal of Biological Chemistry, 2009, 284(47):32813-32826
[7] Yubin Zhang, Thomas W. Gettys,etc. Targeted deletion of melanocortin receptor subtypes 3 and 4, but not CART, alters nutrient partitioning and compromises behavioral and metabolic responses to leptin. The FASEB Journal , 2005,19:1482-1491
[8] Ji Suk Chang,Peter Huypens, Yubin Zhang, and Thomas W. Gettys,etc. Regulation of NT-PGC1α subcellular localization and function by PKA-dependent modulation of CRM1 export. The Journal of Biological Chemistry, 2010,285(23):18039-50.
[9] Ji Suk Chang, Vivian Fernand, Yubin Zhang and Thomas W. Gettys,NT-PGC-1α is sufficient to link β3-adrenergic receptor activation to the transcriptional and physiological components of adaptive thermogenesis, JBC,2012, 287:9100-9111
[10] Eckhard Bender,Armelle Pindon, Irma van Oers, Yu-Bin Zhang and Walter Luyten,etc. Structure of the human serotonin 5-HT4 receptor gene and cloning of a novel 5-HT4 splice variant. Journal of Neurochemistry ,2000,74: 478-489.