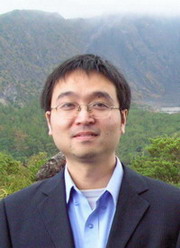 ZHENG, HENG
Associate Professor of Pharmaceutical Sciences
Director, Department of bioinformatics
School of Life Science and Technology
Phone: 86-25-83271001
Email: zhengh@cpu.edu.cn
Research Summary
Dr. ZHENG's research focuses on the research and development of antimicrobial drugs, especially on the antimicrobial peptides. He is an expert in the field of computer aided drug design, discovered several novel metallo-β-lactamase inhibitors, which severed as potential drug candidates for multiple-drug-resistant bacteria. He is also specialize in protein structure prediction, molecular docking, and molecular dynamics. Hepublished more than 50 papers, obtained 3 Chinese invention patents in recent years.
Education
2005-2007 Post-doctoral research, School of PharmaceuticalSciences,
Nagasaki University, Japan.
1995-2000Ph.D., China Pharmaceutical University, Nanjing,China
1991-1995 B.S., China Pharmaceutical University, Nanjing,China
Academic Experience
2007- Director, Department of bioinformatics, School of Life
Science and Technology, China Pharmaceutical University
2003-2005 Deputy Director, Department of bioinformatics, School of Life
Science and Technology,China Pharmaceutical University
2000-2003 Lecturer, Department of microbial medicine, School of Life
Science and Technology, China Pharmaceutical University
Awards and Honors
2014 Jiangsu Medical Science and Technology Progress Award, Jiangsu
Drug Research and Development Association
2010 Youth Pharmaceutical ExpertsAward, China Pharmaceutical
Association
2008 National Excellent Courses "Biopharmaceutical Process", Ministry
of Education, China
2006 Third Prize of Henry Fok Youth Teacher Rewards, Ministry
of Education, China
2004 China Pharmaceutical University Award of Prominent Teacher
2004 Second Prize of Multimedia Teaching Courseware Competition of
Jiangsu University,Education Department of Jiangsu Province
2004 Jiangsu Province "Blue Project" Outstanding Youth Teacher
Award,Education Department of Jiangsu Province
Publications
Fan, L. Sun J, Zhou M, Zhou J, Lao X, Zheng H*, Xu H*. DRAMP: a comprehensive data repository of antimicrobial peptides. Sci. Rep. 2016, 6, 24482

Lao X, Li B, Liu M, Shen C, Yu T, Gao X*, Zheng H*. A modified thymosin alpha 1 inhibits the growth of breast cancer both in vitro and in vivo: suppressment of cell proliferation, inducible cell apoptosis and enhancement of targeted anticancer effects. Apoptosis. 2015, 20(10):1307-20.

Jing Xiao, Mi Fang, Yun Shi, Hui Chen, Bingzhen Shen, Jiao Chen, Xingzhen Lao, Hanmei Xu,* and Heng Zheng*. Identification and Validation Novel of VIM-2 Metallo-blactamase Tripeptide Inhibitors. Molecular Info, 2015. 34( 8): 559–567.

Jiao Chen, Hui Chen, Tong Zhu, Dandan Zhou, Fang Zhang, Xingzhen Lao*and Heng Zheng*Asp120Asn mutation impairs the catalytic activityof NDM-1 metallo-b-lactamase: experimental andcomputational study.Phys. Chem. Chem. Phys. 2014, 16, 6709-16.

Xiao-Hui Shang, Xiao-Yu Liu, Jian-Peng Zhang, Yun Gao, Bing-Hua Jiao, Heng Zheng* and Xiao-Ling Lu*. Traditional Chinese Medicine - Sea Urchin. Mini-Reviews in Medicinal Chemistry, 2014, 14(6):537-542

Jiao Chen, Yifang Liu, Tianyi Cheng,Xingzhen Lao, Xiangdong Gao, HengZheng*, Wenbing Yao*. A common binding mode that may facilitate the design of novel broadspectrum inhibitors against metallo-β-lactamases. Med Chem Res 2014,23:300-309

Lao X, Liu M, Chen J, Zheng H*. A tumor-penetrating Peptide modification enhances the antitumor activity of thymosin alpha 1. PLoS One. 2013, 8(8):e72242.

Shen B, Yu Y, Chen H, Cao X, Lao X, Fang Y, Shi Y, Chen J, Zheng H*. Inhibitor discovery of full-length New Delhi metallo-β-lactamase-1 (NDM-1). PLoS ONE, 2013, 8(5): e62955.

Liu JT, Lu XL, Liu XY, Gao Y, Hu B, Jiao BH, Zheng H*. Bioactive Natural Products from the Antarctic and Arctic Organisms. Mini-Reviews in Medicinal Chemistry, 2013, 13, 617-626

Jiao Chen, Rong Yu, Bingzheng Shen, Yan Xu, Yifang Liu, Heng Zheng* and Wenbing Yao*. Docking-based 3D-QSAR modeling of the inhibitors of IMP metallo-β-lactamase. Medicinal Chemistry Research 2013, 22(4):1730-1739

Jiao Chen, Xiaohui Shang, Feng Hu, Xingzhen Lao, Xiangdong Gao, Heng Zheng* andWenbing Yao*.β-Lactamase Inhibitors: An Update. Mini-Reviews in Medicinal Chemistry. 2013, 13(13): 1846-1861

Pu, Chun-yan ; Xu, Han-mei ; Hu, Jia-liang ; Zheng, Heng ; Huang, Xiao-feng ; Zhang, Chi ; Yang, Yong-jing ; Li, Yong-bing. RGD-modified endostatin fragments showed an antitumor effect through antiangiogenesis.Anti-Cancer Drugs.2012, 23(8):788-802

Renhua Sun, Heng Zheng*, Zhengzhi Fang, Wenbing Yao*. Rational design of aminoacyl-tRNA synthetase specific for p-acetyl-L-phenylalanine. Biochemical and Biophysical Research Communications 2010,391(1): 709~715

Runting Yin, Heng Zheng, Tao Xi, and Han-Mei Xu. Effect of RGD-4C Position is More Important Than Disulfide Bonds onAntiangiogenic Activity of RGD-4C Modified Endostatin Derived SyntheticPolypeptide. Bioconjugate Chem. 2010, 21, 1142–1147

Meiling Lu, Xu Cao, Xin Yang, Heng Zheng, Nan Liu, Yun Jiang,Donghai Lin,Yijun Chen.. A diketoreductase exhibits unique renaturation profile from thermal-induced protein unfolding. Amino Acids, 2010,39(2):609-613

Xu Y, Nakajima Y, Ito K, Zheng H, Oyama H, Heiser U, Hoffmann T, Gärtner UT, Demuth HU, Yoshimoto T. Novel inhibitor for prolyl tripeptidyl aminopeptidase from Porphyromonas gingivalis and details of substrate-recognition mechanism. J Mol Biol. 2008,375(3):708-719