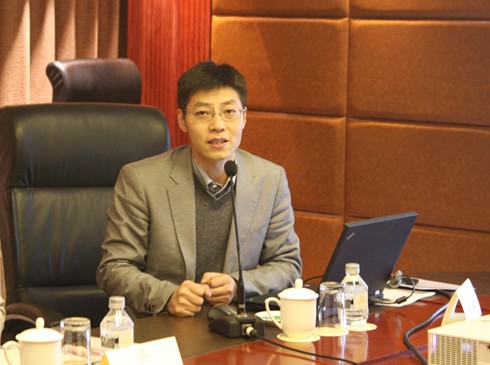 XU, WEI
Associate Professor of Social and Administrative Pharmacy (Medical Insurance) & Pharmaco-Economics (Pharmaceutical Policy)
School of International Pharmaceutical Business
Phone: 13851942851
Email: xu2005wei@126.com
Research Summary
Professor XU's research focuses on medical insurance, including medical insurance drug price, financing mechanism of medical insurance fund and essential drug policy, etc. He has published 30 papers on core journals, one of which entitled "Estimated Financing Amount Needed for Essential Medicines in China" was included in SCI. In addition, he has charged inthe General Program of the National Natural Science Foundation of China, the Post Funded Program of the National Social Science Fund of China and also other 22 projects.
Education
2011 Ph.D., Management of Agricultural Economy, Nanjing Agricultural University
2005 M.S., Finance,Nanjing University
1997 B.S., International Economics & Trade,China Pharmaceutical University
Academic Experience
2010- Associate professor ofSocial and Administrative Pharmacy (Medical Insurance) & Pharmaco-Economics (Pharmaceutical Policy), School of International Pharmaceutical Business
2013- Researcher of the Research Center of National Drug Policy & Ecosystem
2014- Expert of National Health and Family Planning Commission of the People's Republic of China
2011- Expert of Medical Insurance Drug Evaluation Committee of Jiangsu Province
Awards and Honors
2014-2016 Outstanding Young Teacher of Qing Lan Plan, Jiangsu Provincial Education Department
2012 Excellent Medical Insurance Research Paper of Jiangsu Province, China Medical Insurance Research Association
2011 The most popular teacher in the activity "Thank You Teacher"
2009 First Prize for the 13thOutstanding Achievement Award of Social Science in Jiangxi,Jiangxi Provincial Association of Social Sciences
2008 The best instructor of the National College Students' Financial Investment Simulation Trading Competition, Shi Hua Financial Information Company
Publications
Book:
Wei Xu, Improvement of Basic Medical Insurance System for Urban People in China: Studies Based on Financing and Reimbursement [M]. Beijing: Science Press, 2015.6.
Papers and Articles:
Wei Xu. Estimated Financing Amount Needed for Essential Medicines in China [J].Chinese Medical Journal (129): 716-722. (SCI)

Wei Xu, et. The Procurement System of Pharmaceuticals in Hong Kong and Macao [J]. Price: Theory & Practice, 2015(7):40-42. (CSSCI)

Wei Xu, et.The Re-understanding of Effects of Pharmaceutical Price on Pharmaceutical Cost [J]. Price: Theory & Practice, 2013(12):52-53. (CSSCI)

Wei Xu, et. Empirical Analysis of the Out-of-pocket Payments Rate Influence Factors in China [J]. Jiangsu Social Sciences, 2013(1):89-93. (CSSCI)

Wei Xu. The Lessons on Controlling Expense of Medical Insurance from the View of International Experience [J]. Forum of World Economics & Politics, 2010(2):162-172. (CSSCI)

Wei Xu, et. A Study on the differences in quality and price between essential drugs in China: Take Jiangsu as a Case [J]. Price: Theory & Practice, 2012,05:33-34. (CSSCI)

Wei Xu. Studies on the Allocation of Health Resources in Different Regions in Jiangsu [J]. Jiangsu Social Sciences, 2010,04:242-245. (CSSCI)

Wei Xu, et. Estimation and Analysis on Financing Standard of Basic Medical Insurance for Urban Residents: Take Jiangsu as a Case [J]. Chinese Health Economics, 2014,33(6):40-42 (Chinese Core Journal)

Wei Xu, et.Research on the Financing Structure of Urban Resident Basic Medical Insurance in China Based on the Equity [J]. Chinese Health Economics, 2015, 34(11).(Chinese Core Journal)

Wei Xu, et.Financing fairness evaluation of basic medical insurance for urban residents [J]. Health Economics Research, 2015(10):30-32. (Chinese Core Journal)

Wei Xu, et.The Evaluation of the Effect of the Global Budget in Urban Employee Basic Medical Insurance [J]. Chinese Health Service Management, 2015, 32(9):666-669. (Chinese Core Journal)

Wei Xu, et.Comparative Study on Drug Price Levels of Guangdong Province of China, UK, Germany, Japan and HongKong [J]. Chinese Health Economics, 2015, 34(9). (Chinese Core Journal)

Wei Xu, et.The Security Effect of the Basic Medical Insurance on Critical Illnesses [J]. Health Economics Research, 2015(8):36-39. (Chinese Core Journal)

Wei Xu, et.The Research on the Compensation Level of Public Hospital after the Drug Price Addition is Cancelled———Based on the Demand Function Theory [J]. Chinese Health Service Management, 2015, 32(3):189-192. (Chinese Core Journal)

Wei Xu, et. Comparatively Studying on the Compensation Program for Outpatients' Chronic Diseases by Distinguishing Categories and Medical Expenses [J]. Chinese Health Service Management, 2014, 31(3):186-188. (Chinese Core Journal)

Wei Xu, et. Financing Fairness Evaluation of Basic Medical Insurance for Urban Residents in Jiangsu Province [J]. Medicine & Philosophy (A), 2013, 34(17):63-65. (Chinese Core Journal)

Wei Xu, et. Fund Balance Analysis of Basic Medical Insurance for Urban Residents in Jiangsu Province [J]. Health Economics Research, 2013(3):32-36. (Chinese Core Journal)

Wei Xu, et. Analysis of Influential Factors on Financing Standard of Urban Resident Medical Insurance in Jiangsu Province [J]. Chinese Health Economics, 2013, 32(3):30-32. (Chinese Core Journal)

Wei Xu, et. The Expenditure Estimating of Essential Drugs in Jiangsu Province [J]. Health Economics Research, 2012(3):46-48. (Chinese Core Journal)

Wei Xu, et. The regional differences in allocation of health resources in the middle and lower reaches of Yangtze River [J]. Chinese Health Resources, 2012, 15(1):48-50. (Chinese Core Journal)

Wu Yan, John G Powell, Jing Shi, Wei Xu. Chinese stock market cyclical regimes: 1991-2006, Economics letters. (SSCI)

Wei Xu, et. Effectiveness and Conditions on Commercial Insurance Companies Offering Health Insurance for Catastrophic Diseases: A case study in five cities in Jiangsu Province [J]. Chinese Journal of Health Policy 2014,03:43-48. (CSCD)

Wei Xu, Study on the Financing Structure of Essential Medicines in China [J]. China Pharmacy, 2014 (20): 1825-1828. (CSCD)