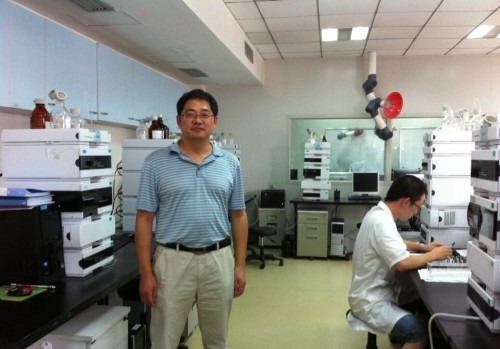 MAO, JINYIN
Associate Professor of chemistry
Director of Department of pharmacy
School of Higher Professional Technology
Phone: 02586185739
Email: mjyin0123@163.com
Research Summary
I mainly engaged in organic chemistry, instrumental analysis and GMP workshop training teaching work and Responsible for the quality and safety of drug research and development of teaching plan. Scientific research is mainly focused on the analysis methods of modern instruments, drug quality standards, in vivo drug analysis methods and the synthesis of chemical drugs.
Education
2001 M.S., Pharmaceutical analysis,China Pharmaceutical University
1987 B.S., Chemistry,Nanjing Normal University
Awards and Honors
2013 Excellent Teaching Material Award, National Steering Committee for the Pharmaceutical Education
2004 Two prize of Teaching Achievement , China Pharmaceutical University
Publications
1 MAO, JINYIN. Practice and Training of Drug Quality Control [M]. Beijing: China Medical Science Press, 2008.
2 MAO, JINYIN. Instrumental Analysis Technique [M]. Beijing: China Medical Science Press, 2013.
3 MAO Jinyin, ZHANG Shulai, DING Li, WEN Ai-dong, Bioequivalence Assessment of Fluconazole Capsules in Human Plasma by HPLC-MS[J]. Progress in Pharmaceutical Science, 2006, 30(3):122-126.
4 MAO Jinyin, DINGLi, XU Guili, HE Jianchang, Study on Pharmacokinetics of Extended-release Pseudoephedrine /Cetirizine Combination Tablet in Chinese Volunteers[J]. Chin Pharm J, 2007, 42(15):1168-1173.
5 MAO Jinyin, DING Li, Determination of Glipizide in plasma by HPLC-MS and study on Its pharmacokinetics in healthy subjects [J].china pharmacist, 2009, 12(12):1707-1709.