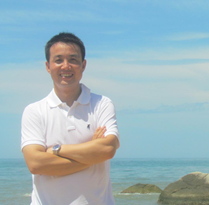 ZHONG, YI
Associate Professor of Medicinal Chemistry
Department of Medicinal Chemistry
School of Pharmacy
Phone: 86-25-83271414
Email: ynzhyi@sina.com
Research Summary
ZHONG YI, born in 1972, is an Associate Professor in Department of Medicinal Chemistry. He has been worked as a teacher in China Pharmaceutical University after graduation in 1996. He got a master's degree in Medicinal Chemistry in 2002. Zhong Yi undertakes teaching pharmaceutical chemistry experiment and theory courses. He is a licensed pharmacist and also bears exam training work of the National Licensed Pharmacist Examination. Zhong Yi is engaged in scientific research in small molecule design, synthesis studies such as for diabetes and anti-tumor drugs. He participated in a number of national researches and the projects from Natural Science Foundation of Jiangsu Province. Zhong Yi published several articles.Heedited and also joined the edition of some teaching textbooks.
Education
2002 M.S., Medicinal Chemistry,China Pharmaceuticals University
1996 B.S., Medicinal Chemistry,China Pharmaceuticals University
Academic Experience
1996- Associate Professor of Medicinal Chemistry. China Pharmaceuticals University
Awards and Honors
Publications
(1) Qian Zhao(#),Xi Xu,Zhouling Xie,Xiao Liu,Qidong You,Qinglong Guo,Yi Zhong(*),Zhiyu Li(*),Design, synthesis and biological evaluation of 3-substituted indenoisoquinoline derivatives as topoisomerase I inhibitors,Bioorganic & Medicinal Chemistry Letters,2016,26(3):1068-1072。
(2) Liu, Juan(#),Wang, Long,Zhang, Aisen,Di, Wenjuan,Zhang, Xiao,Wu, Lin,Yu, Jing,Zha, Juanmin,Lv, Shan,Cheng, Peng,Hu, Miao,Li, Yujie,Qi, Hanmei,Ding, Guoxian(*),Zhong, Yi(*),Adipose tissue-targeted 11beta-hydroxysteroid dehydrogenase type 1 inhibitor protects against diet-induced obesity.,Endocr J,2011,58(3):199-209。
(3)Wang L1, Liu J, Zhang A, Cheng P, Zhang X, Lv S, Wu L, Yu J, Di W, Zha J, Kong X, Qi H, Zhong Y, Ding G.BVT.2733, a Selective 11 beta-Hydroxysteroid Dehydrogenase Type 1 Inhibitor, Attenuates Obesity and Inflammation in Diet-Induced Obese Mice ,Plos One, 7(7), 2012/7/2.