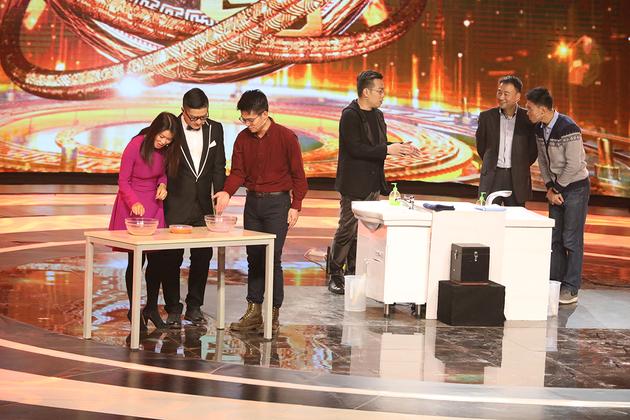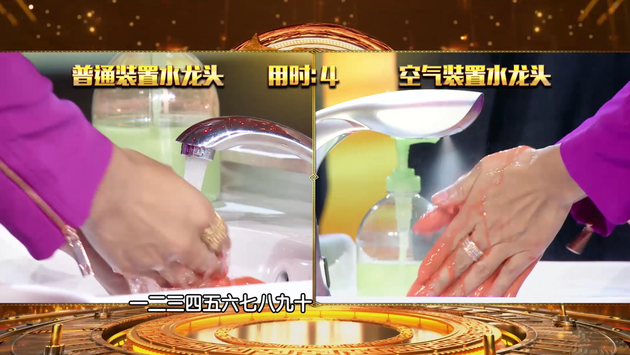 BEIJING Feb.6, 2018: On a recent show of BTV Creative China 8th Episode, a hand-wash device invented by Xiaotong ZHENG, alumnus of the China Pharmaceutical University, attracted investors' attention and gained first-round financing.
The device looks like an ordinary infrared sensor faucet from the outside, but the difference is that when hands are placed under the sensor, it is not water but air flow that emerges from the faucet.
It will release a small amount of water mist, and then remove the stain at the same time by the high-speed airflow. Xiaotong ZHENG introduced, his team found that by the traditional hand-washing method, only 5% of the water flow dissolves the stain while 95% of the water flow is for mechanical action. Since all fluids have a common characteristic of carrying stain, they proposed using a small amount of water mist to dissolve the stain, while using air flow instead of water flow to wash away the stains, and that more than 90% of water resources can be saved.
"In China, on average one person washes hands 5 times a day. Each time the amount of water consumed is about 0.6 liters, and 365 days a year, the amount of water consumed by our single hand washing is as high as 1.75 billion tons, which is equivalent to the storage capacity of 121 West Lakes. If 90% of the water is saved, then 670 million kwh electricity will be generated each year to meet the electricity consumption of 1.27 million people. The 90% saved water can irrigate 15 million acres of farmland, equals to 3 years agricultural consumption of Beijing area, and equals to a whole year's family consumption in Qinghai, Gansu, Ningxia, and Tibet.
This product has applied for 3 national invention patents and two utility model patents at present, and started its first trials at Tsinghua University and Beijing Foxconn. After the introduction by Creative China program, it has been favored by many investors such as the Tsinghua University, Zhejiang University, Yinchuan Municipal Government, the United Nations Development Program, the People's Liberation Army Navy Equipment Department, the Capital Museum, and has completed the first round of financing. It will be put into production after the Chinese Spring Festival and the second round of financing will be carried out.
Zheng Xiaotong, who once studied biopharmaceutics at China Pharmaceutical University, said to the media that after his graduation in 2016, he went to work for a Fortune 500 pharmaceutical company with a high salary. He resigned after he and friends developed this product and formed a three-person startup team. At present, he is mainly responsible for external operations.
Ours is a brand-new product that subverts traditional concepts and may require continuous promotion to gain market recognition. Xiaotong ZHENG said, but they have confidence. As the producers of the program said, saving water and energy is our future direction and has become a consensus of the community. This product has a good grasp of the market's hot spots and needs. I hope that with the promotion of this product, so that the rationale of water-saving energy-saving is more deeply rooted. He said.
Translated by Qi LIU
Original Chinese Version of this News Story can be found here http://news.cpu.edu.cn/68/60/c253a92256/page.htm