April 16th, 2019: Michael Levitt, the 2013 Nobel Laureate in Chemistry, delivered his lecture in China Pharmaceutical University. He introduced the birth and future of Computational Structural Biology and shared some general thoughts on academics and life with faculty and students.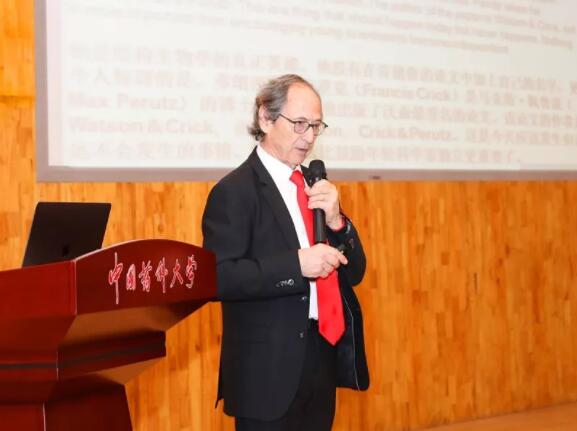 Professor Levitt Delivering Lecture
Professor Michael Levitt was born in South Africa in 1947. He is a world-famous biophysicist and one of the first computational biologists to perform DNA and protein molecular dynamics simulations. He built the world's first computer model for enzyme reactions and contributed to the establishment of multi-scale computational simulation methods and therefore won the 2013 Nobel Prize in Chemistry. Michael Levitt is also an academician of the US National Academy of Sciences, and a professor of Structural Biology at Stanford University.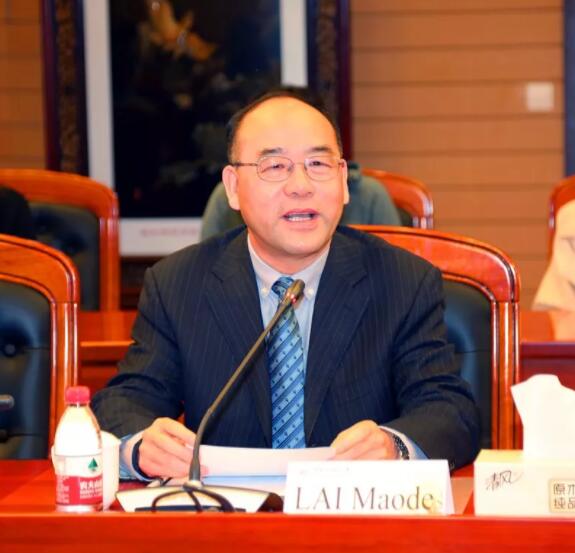 CPU President LAI Maode Giving Welcoming Speech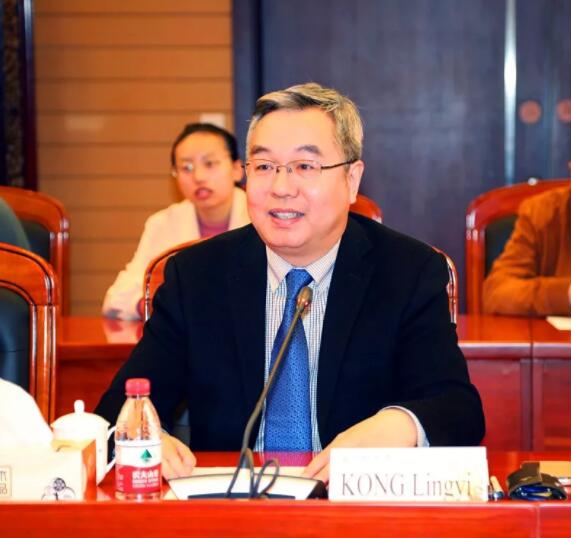 CPU Vice President KONG Lingyi presided over the meeting
"Everything should be made as simple as it can be, but not simpler."Professor Levitt quoted Einstein on simplification, described the beginning of modern biology, the birth of computational structural biology, the multi-scale dynamics with huge systems, the future simulation of functional movements, and its application on human health. Specifically, for CPU students, Professor Levitt introduced the role of protein simulation in the design and production of antibody. His multi-scale computational simulation methods and software helped manufacturers to design and optimize humanized antibodies and clinical treatments, decoding the secrets of life and provide new ideas for the research of new drugs.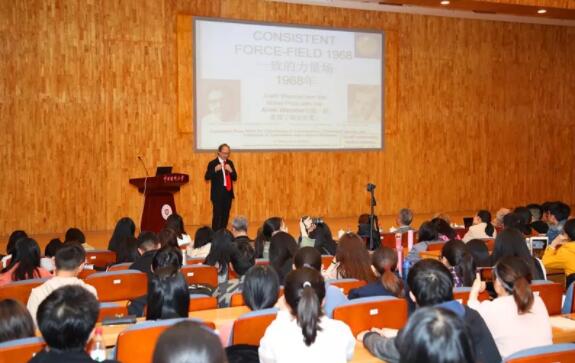 The lecture
Professor Levitt recalled the mentors and team members that ever worked with him, calling them "my towering heroes of science" and encouraged young people to be more imaginative and daring so as to make breakthroughs: "Take chances, but do not be too stupid."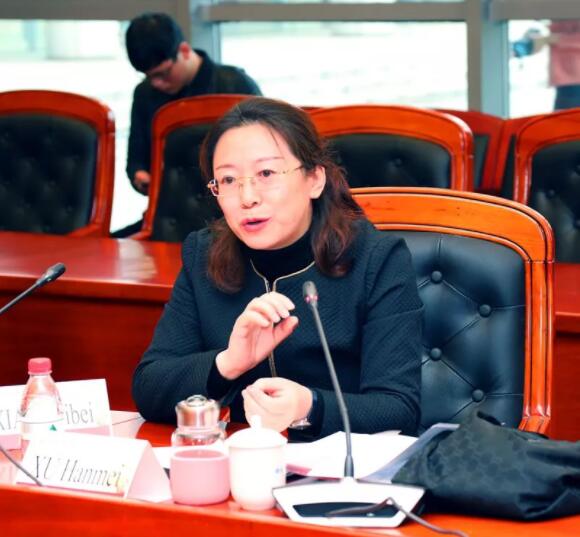 Professor XU Hanmei attended the meeting
Professor Levitt also had a passion for life. He likes hiking and adventure in leisure time. Once he studied kayaking in order to explore a small island in Sweden. Finally he rowed boat and finished hiking in the island. "In fact, scientists' life is not nerdy. 72 years old, I feel I am still young."Professor Levitt said.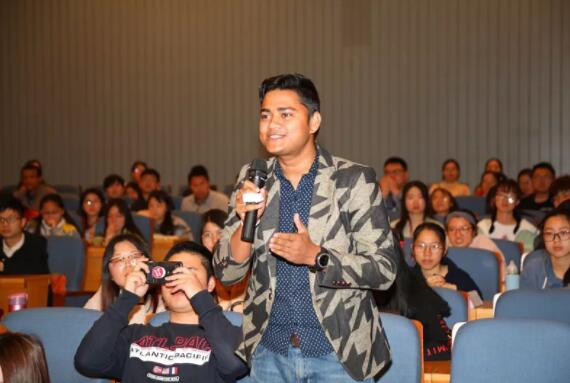 CPU student asking questions
He gave four suggestions to students: be passionate; be persistent; be original; be kind & good. "The most wonderful thing in life is to engage in the things that I love, and science made it perfect."
The whole speech was cheerful, down-to-earth, humorous and sometimes very cute, showing Professor Levitt's passionate yet respectful attitude to science. He admitted that many problems have technical solutions, but the vast majority of problems are unknown to human. "For most of the time, it is better to say you don't know than to give a premature answer."He said.
Subsequently, Professor Julius Rebek reported on the design of small molecules that control the interaction of protein in disease signaling pathways to faculty and students in CPU. Professor Julius Rebek is the academician of the European Academy of Sciences, the academician of the American Academy of Sciences, the academician of the Hungarian Academy of Sciences, the foreign academician of the Royal Swedish Academy of Sciences, and the director of the Scripps Institute of Chemical Biology.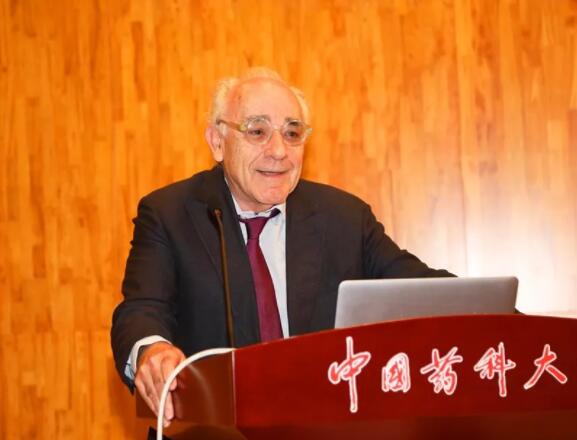 Professor Julius Rebek delivered lecture
Since 2016, CPU has invited five Nobel Laureates to give lectures on various topics such as supra-molecular chemistry, human digestive tract diseases, establishment of chemical system models, protein ubiquitination regulation, and crystals. All these cross-discipline research fields relate with pharmaceutical science. The visit of Professor Levitt offered another opportunity for faculty and students to have a face-to-face communication with masters of science. This visit will inspire teachers and students to innovate, cultivate interest in scientific exploration and make decision to devote themselves into science. Also this attracted media attention and has a profound influence on- and off-campus.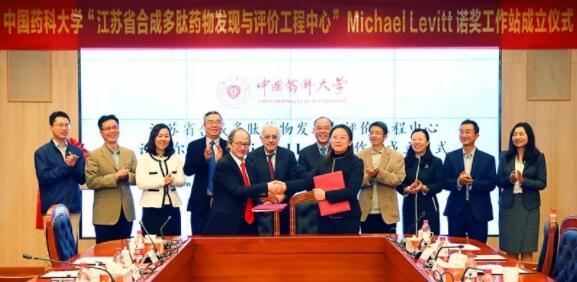 The Unveiling Ceremony of "Michael Levitt Workstation" at Center for Synthetic Peptide Drug Discovery and Evaluation Engineering of Jiangsu Province
Before the lecture, CPU President Professor Lai Maode and Vice President Kong Lingyi met with Professor Micheal Levitt and his delegation. Professor Xu Hanmei, the Director of the Center for Synthetic Peptide Drug Discovery and Evaluation Engineering of Jiangsu Province, signed cooperation agreement of "Michael Levitt Workstation"with Professor Levitt. Professor Lai Maode and Professor Levitt jointly unveiled the workstation. The establishment of the workstation holds promise for promoting academic interaction and cooperation and attracting talents.