Recently, the team of Professor ZHOU Jianping and Professor WANG Wei of CPU School of Pharmacy published the latest research results in Materials Horizons (Impact Factor: 14.356), a leading journal in the field of materials science of the Royal Society of Chemistry (RSC), reporting a Neutrophil Membrane-Functionalized Black Phosphorus Riding Inflammatory Signal for Positive Feedback and Multimode Cancer Therapy. Doctoral candidate SU Yujie is the first author. Professor WANG Wei and Professor ZHOU Jianping are the co-corresponding authors of this article.
At present, the team of ZHOU Jianping and WANG Wei has made great progress in the field of precision drug delivery and targeted therapy based on bionic/cell carrier. In this work, the researchers proposed a positive feedback strategy for tumor-targeted therapy, in which the target signal is amplified by continuously initiating the tumor microenvironment to improve the efficacy of continuous therapy. The multifunctional two-dimensional material black phosphorus (BP) nanosheet binds to the transforming growth factor-beta inhibitor and coats the surface of the neutrophil membrane. BP-mediated photodynamic therapy and photothermal therapy can induce local acute inflammatory reaction of tumor, and the inflammatory tendency of neutrophil membrane can promote the accumulation of nanoparticles in the tumor site. The results show that photodynamic/photothermal therapy combined with immunotherapy can destroy local primary tumors and inhibit distal metastases, which can solve the problem that metastatic malignant tumors are difficult to treat effectively.
The research work has received funding support from the National "Major New Drug Creation" Science and Technology Major Project, the National Natural Science Foundation Project, the "Six Talents Summit" High-level Talent Project of Jiangsu Province, and the "Double-Class" Innovation Team Project of China Pharmaceutical University.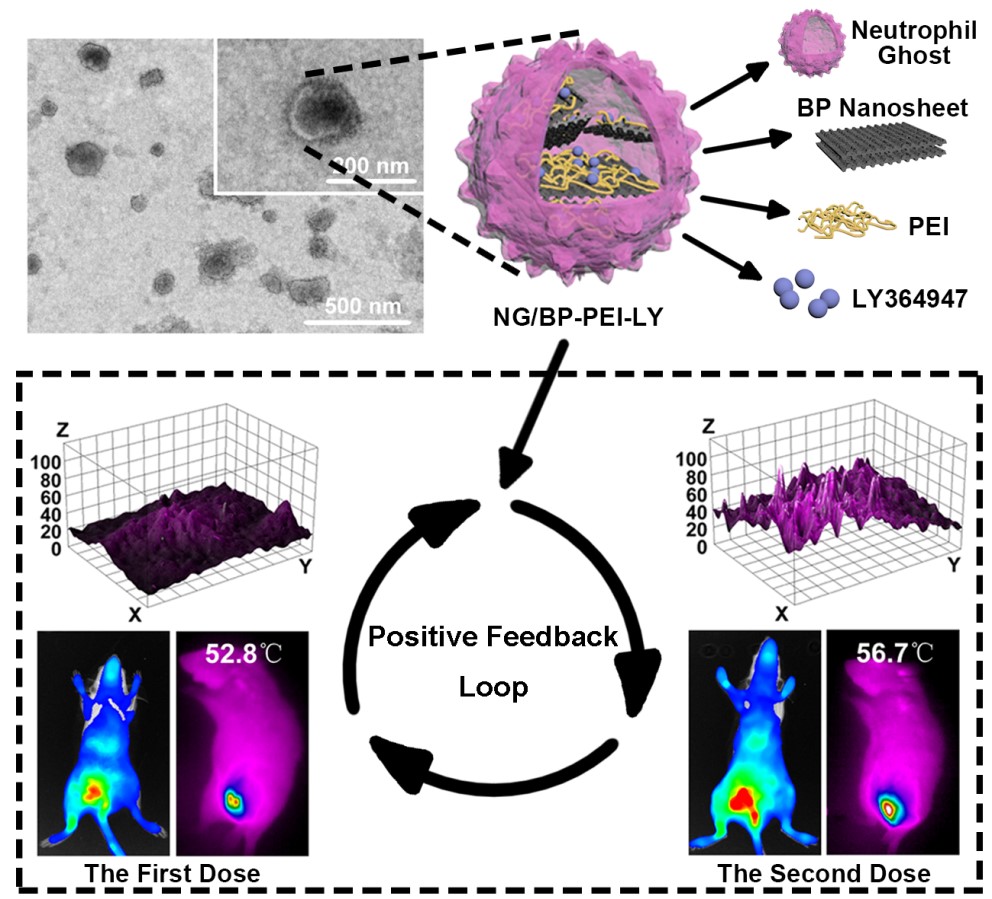 Mechanism of tumor multimodal combined therapy based on positive feedback strategy