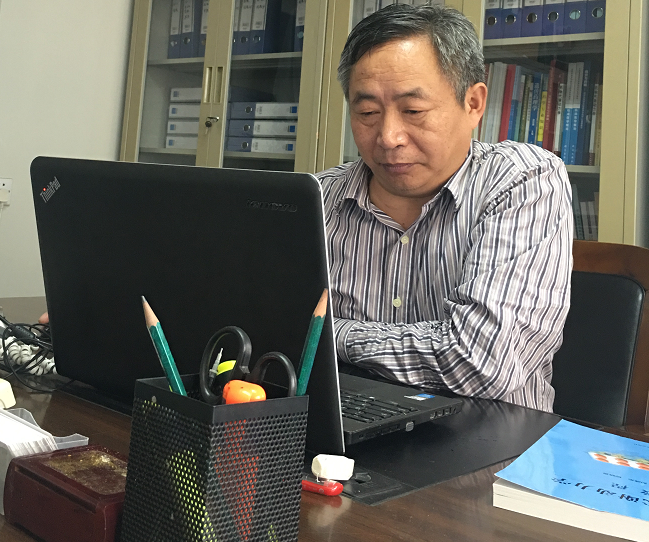 Liu, XIAODONG
Professor of Pharmacokinetics
China Communist Party Secretary, Institute of Pharmaceutical Sciences
Institute of Pharmaceutical Sciences
Phone: 86-25-83271006
Email: xdliu@cpu.edu.cn
Research Summary
Professor Liu is vice-chairmen of the Chinese Pharmacological Society the drug metabolism Professional Commission(CSSX), Member of Pharmacological Association and ISSX. He focuses on Pharmacokinetics of new drug, drug transport acrossblood brain barrier(P-glycoprotein), drug-drug interaction, and CYP450s/drug transporters under disease . He has charged seven items for the National Natural Sciences Foundation of China and published over 120 papers including 100 papers collected in SCI.
Education
1999 Ph.D., Pharmacology, China Pharmaceutical University
1997 M.S., Pharmacology, China Pharmaceutical University
1993 B.S., Pharmacy , Anhui University of Chinese Medicine
Academic Experience
1999-present Professor of Pharmacokinetics, Institute of Pharmaceutical Sciences
1995-1999 Associated Professor of Pharmacokinetics, College of Pharmacy
Awards and Honors
2007:Second Reward of National Science and Technology Progress(2nd),China
2004 firstReward of Jiangsu Province Science and Technology Progress(2nd). Jiangsu
Publications
Textbook of Pharmacokinetics(Chief Editor), Phoenix Science Press, 2015, Nanjing.
Major publication(2014- present)(as corresponding author or first author),
Ling Z et al.

Involvement

of

pregnane X receptor

in the impaired glucose

utilization induced

by

atorvastatin

in

hepatocytes

. Biochem Pharmacol.

2016;100:98

Li J, et al. Prediction of drug disposition in diabetic patients by means of a physiologically based pharmacokinetic mode. Clin Pharmacokinet. 2015; 54: 179.

Jiang S, et al. Paroxetine decreased plasma exposure of glyburide partly via inhibiting intestinal absorption in rats Drug Metab Pharmacokinet. 2015;30:240

Li F et al . Co-administration of paroxetine increased the systemic exposure of pravastatin in diabetic rats due to the decrease in liver distribution. Xenobiotica 2015;45:794..

Zhao WM et al. Laminaria japonica increases plasma exposure of glycyrrhetinic
acid following oral administration of Liquorice extract in rats. Chin J Nat Med 2015 ;13: 540.
Liu C et al. Combined contribution of increased intestinal permeability and inhibited deglycosylation of ginsenoside Rb1 in the intestinal tract to the enhancement of ginsenoside Rb1 exposure in diabetic rats after oral administration. Drug Metab Dispos 43:1702.,

Zhang M et al. High-fat diet enhanced retinal dehydrogenase activity, but suppressed retinol dehydrogenase activity in liver of rats. J Pharmacol Sci 2015; 127 ;430.

Zhang J, et al. Hyperammonemia enhances the function and expression of P-glycoprotein an Mrp2 at the blood-brain barrier through NF-B. J Neurochem. 2014; 131: 791.

He L, et al. Opposite regulation of hepatic breast cancer resistance protein in type 1 and 2 diabetes mellitus. Eur J Pharmacol. 2014; 724: 185.

Yang Y, et al. Validated LC–MS/MS assay for quantitative determination of deoxypodophyllotoxin in rat plasma and its application in pharmacokinetic study. J Pharm Biomed Anal. 2014;88 :410.

Hu N, et al. Increased levels of fatty acids contributed to induction of hepatic CYP3A4 activity induced by diabetes — In Vitro evidence from HepG2 cell and Fa2N-4 cell lines. J Pharmacol Sci 2014: 124:433.

Jia LL, et al . The Aggravation of clozapine-induced hepatotoxicity by glycyrrhetinic acid in rats. J Pharmacol Sci. 2014; 124:468..

Li J, et al. Impaired hepatic and intestinal ATP-binding cassette transporter G5/8 was associated with high exposure of β-sitosterol and the potential risks to blood–brain barrier integrity in diabetic rats. J Pharm Pharmacol. 2014;66:428.

Liu C, et al. Association of GLP-1 secretion with anti-hyperlipidemic effect of ginsenosides in high-fat diet fed rats Metabolism 2014; 63: 1342.

Li F, et al. Co-administration of paroxetine and pravastatin causes deregulation of glucose homeostasis in diabetic rats via enhanced paroxetine exposure. Acta Pharmacol Sin 2014; 35: 792.

Liu L, Liu XD. Alterations in function and expression of ABC transporters at blood-brain barrier under diabetes and the clinical significances.Front Pharmacol. 2014;5:273.

Xu D, et al. Decreased exposure of simvastatin and simvastatin acid in a rat model of type 2 diabetes. Acta Pharmacol Sin. 2014;35:1215.